Naval Lodge Coronado Island California
| | |
| --- | --- |
| | |
| Naval Lodge models | Naval Lodge Actual |
Select graphic for larger view.
LucroSol is a California and Florida General contracting company, specializing in project scheduling and coordination of Architectural, MEP, Fire, and other building systems. In addition to VDC, (Virtual Design and Construction), BIM (Building Information Modeling), and IPD (Integrated Project Delivery) we specialize in steel fabrication, erection and shop drawings.
In November of 2010, LucroSol secured a contract for structural steel, fabrication, and erection, of a 166,000 Sq.Ft. oceanfront hotel/apartment Naval Lodge on Naval Air Station Coronado Island, CA. To provide maximum value to the US Navy, the innovative ConxTech building system was selected by the prime general contractor RQ Construction.
"ConX reduces the structure of a building to a "chassis" of systematized components; HSS columns, wide flange beams, and three interlocking connectors; two which form a moment connection (collar), and the other - a gravity connection. These connections are simply assembled by lowering and locking them into place on-site, followed by bolting. ConXtech utilizes these connections to enable a rapid and safe progression of in-field assembly and has achieved an enviable safety record."- Conxtech Web Site
This project required a high degree of underground and in slab coordination to accommodate the fixed metal column locations throughout the building. LucroSol worked directly with the subcontractors locating in wall plumbing, fire, electrical, and mechanical equipment. In order to keep project cost down the fire system and portions of the mechanical ducts were run through the ConxTech beams. The results were astounding, with all penetrations fabricated in the factory.
Using the subcontractor 3D and 2D shop drawings, design drawing and equipment submittals LucroSol coordinated the following systems: mechanical, plumbing, gas, electrical, structural, light gauge metal stud, architectural, exhibits, drop ceilings, lighting, hangers, shop drawings, crane locations, materials staging locations, and many other daily activities.
To bridge that "last one hundred feet", or provide 3D coordination information to the superintendents, and subcontractor foremen, LucroSol provided a powerful computer with a large high resolution monitor, speakers, and high resolution webcam, completely configured with all the necessary software to:
(One) Conduct collaborative internet based meeting with outside consultants, subcontractors, engineers, suppliers, in-house personal, and others
(Two) send and receive email, attachments, connect to ftp locations, and exchange time sensitive construction information
(Three) Conduct daily Flow and Problem Prevention scheduling meetings via the internet
(Four) View 2D and 3D AutoCAD based dwgs, Tekla 3D drawings, 3D Revit drawings, PDF and other construction documents
(Five) permit any subcontractor to view in 3D the area of work they were performing so they could consider the other trades.
LucroSol reduced the cost of the project allowing the owner more features and roof top use items for the original contract price. The construction schedule was reduced by three months using a combination of coordinated modular structural systems, prefabricated MEP & Fire trades.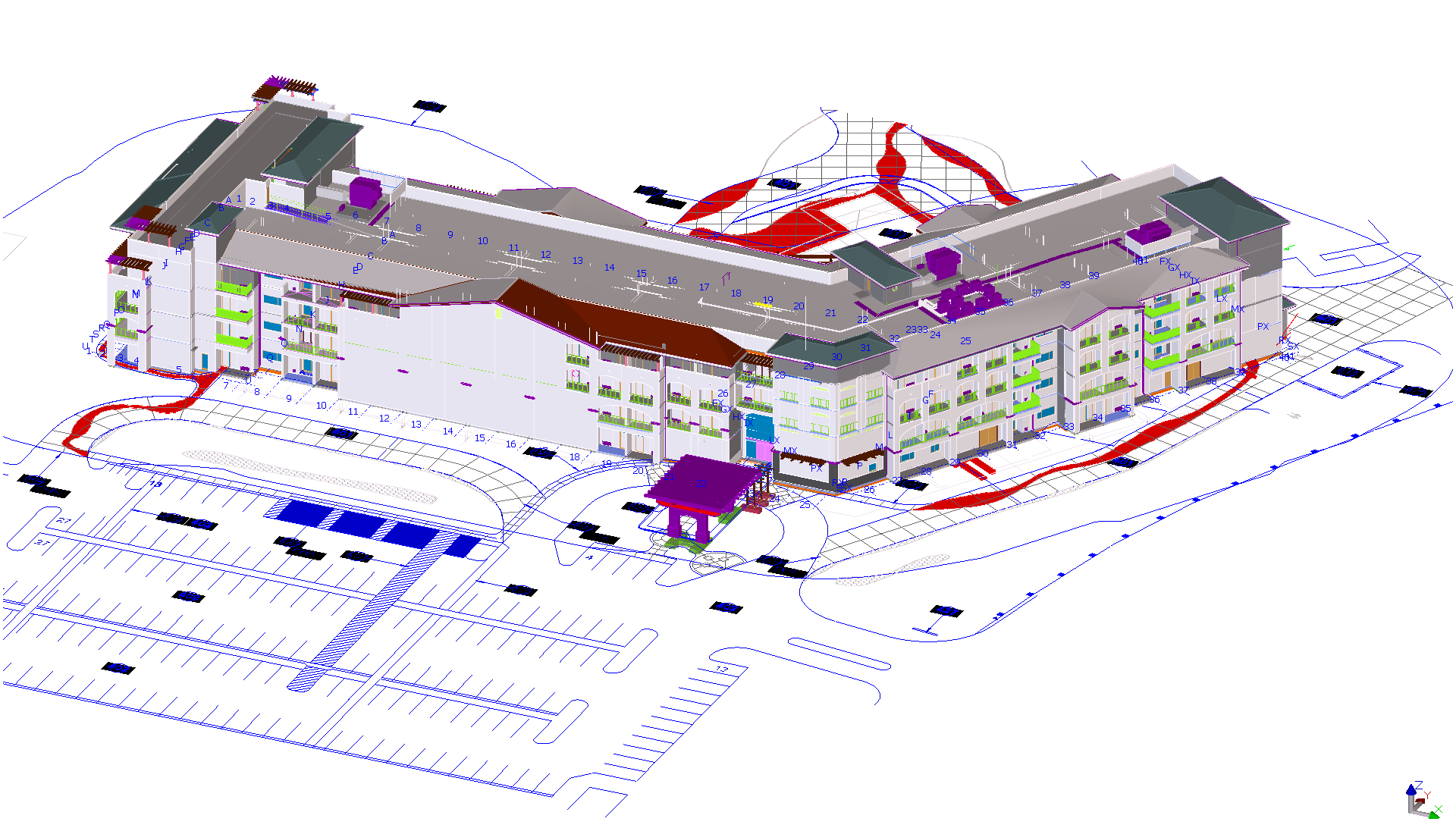 Select graphic for larger view.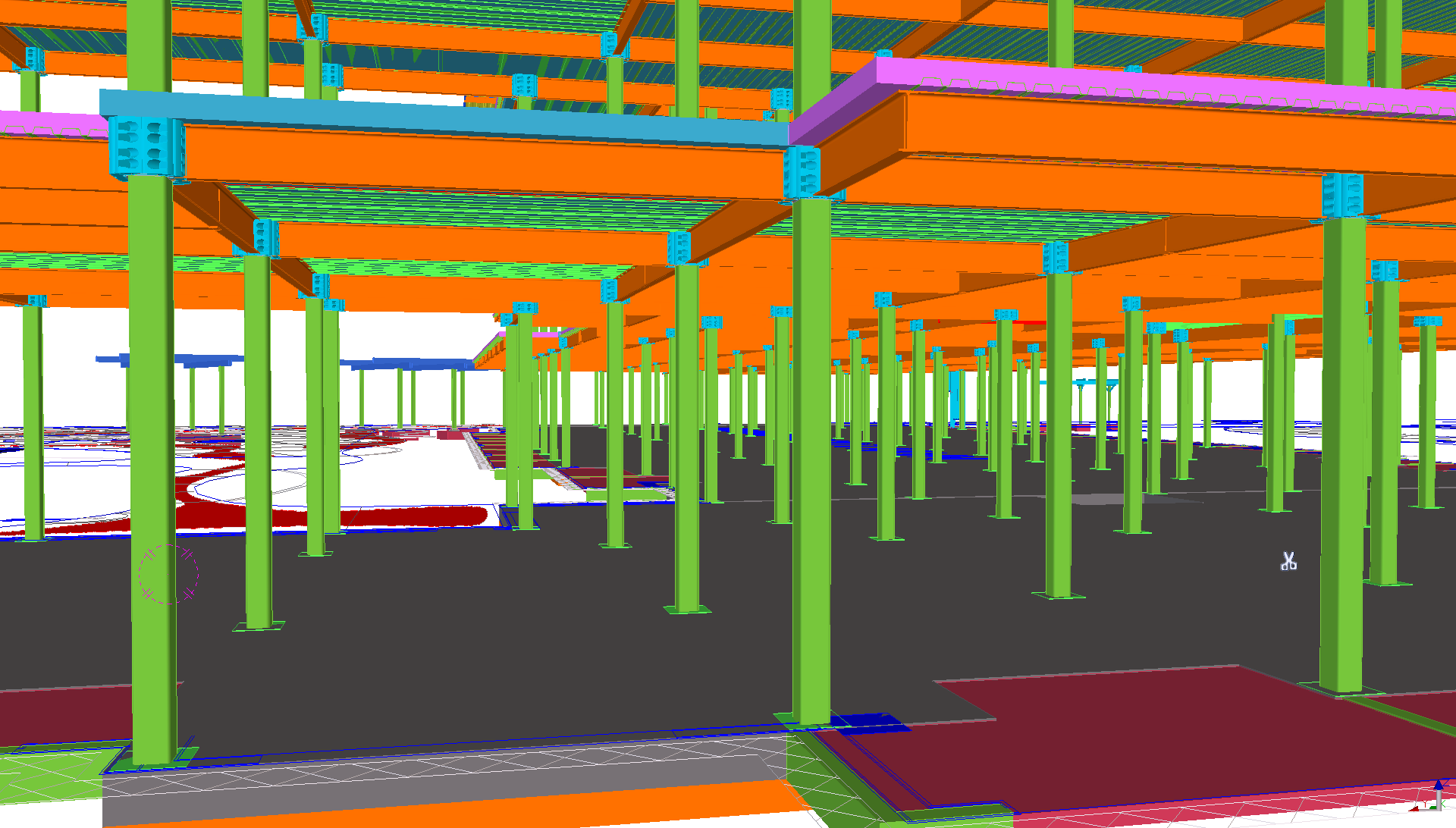 Select graphic for larger view.